So Iggy and I were on Lovi's site.
And this happened.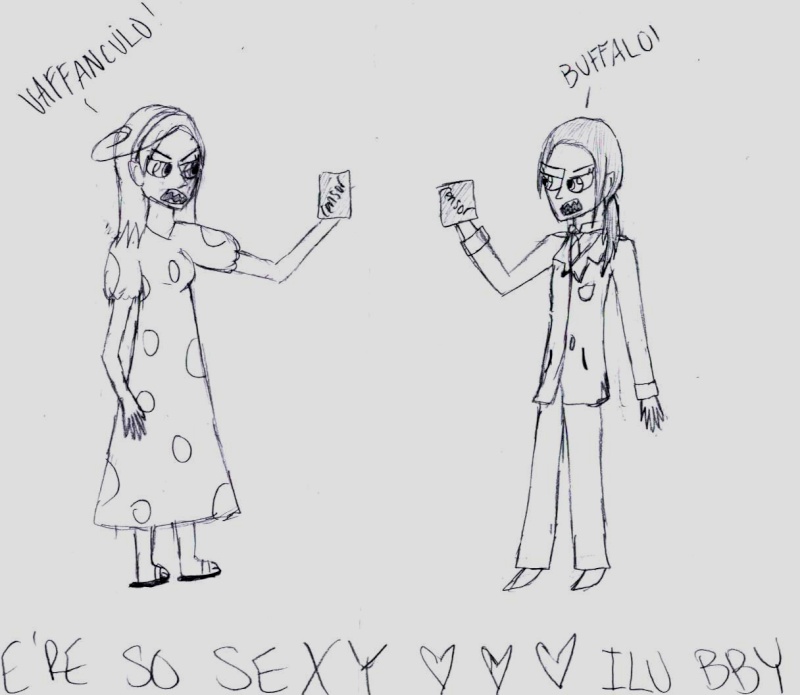 (Grandma!Fem!Romano arguing with Crossdressing!Fem!China)
Text: Lovi: VAFFANCULO!
China: BUFFALO!
Bottom: WE'RE SO SEXY <3 <3 <3 ILU BBY~ (the W got cut off ;w; and the ~)
Then this happened.
(Crossdressing!Fem!China having sloppy makeouts with Romano)
Text: When it comes to sloppy makeouts, you will find no one is as sloppy as us. <3 (my heart goes doki doki for you as sakura blossoms swirl around me) (not like I l-like you or anything, baka! >///<)
But then I decided a sexier picture was needed to define our levels of sexiness (though it would be hard to beat the last picture in sexiness).

(Crossdressing!Fem!China was still a thing, so to show it better, she has binding bandages on.)
In short, RomaChu is SEXY TIMES TWO.
(PS what are hands and how do you draw them. i mean seriously WHAT THE EFF IS THAT THING ON THE LAST PICTURE IS THAT SUPPOSED TO BE A FINGER /cries forever)